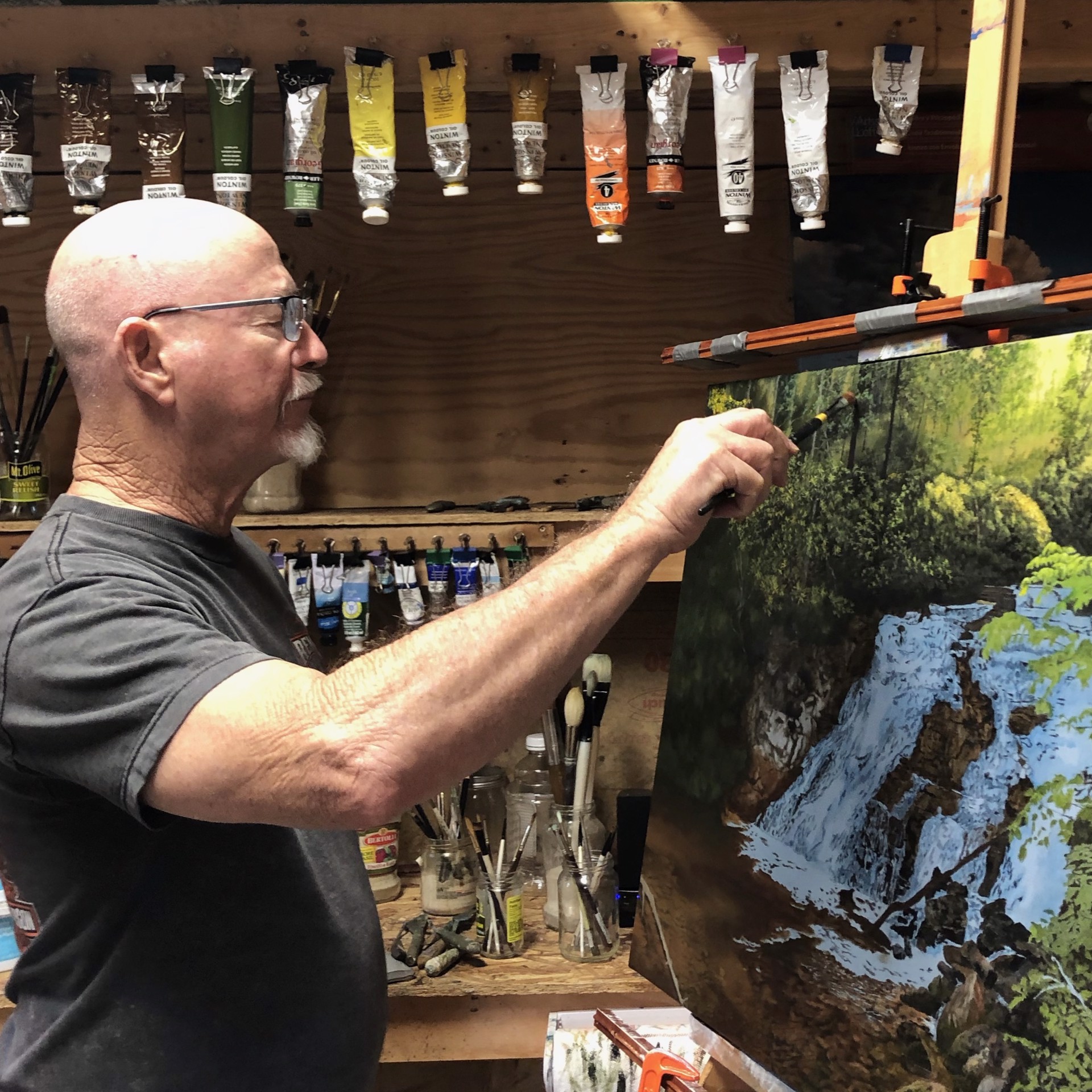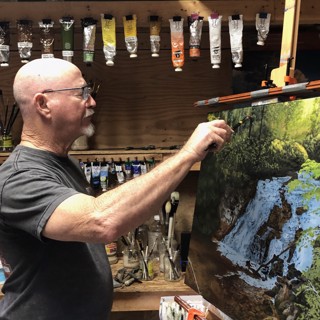 I was born in Kinston , North Carolina in 1949 and have lived in West Virginia, Northern Virginia, a brief time in California and, 40 years, in Florida.
"Some of my earliest memories are of my enjoyment of drawing. My grandmother used my interest in art as a ready tool to keep me occupied when our family would visit. I was fortunate in that, at the age of nine, my parents presented me with my first set of oil paints. I have been painting ever since. As a self-taught artist, I focus almost entirely on traditional representational landscapes and seascapes, with a strong leaning toward realism done exclusively in oils.
It was during the period from 1965 to 1969 that I believe my obsession for landscapes and seascapes grew. My curiosity, (and some rebelliousness), led me to believe that I had to see for myself what the rest of the country, beyond the mid-Atlantic, really looked like. Consequently, one summer… at age sixteen… and certainly without the foreknowledge or approval of my parents… I hitch hiked from Northern Virginia to San Diego, California… just to see the country. The whole trip lasted maybe ten days. My parents, to say the least, were not pleased with my impromptu journey, but I was hooked on the adventure and the changes in scenery that I saw. It was inevitable that similar trips would follow over the next four years. Those trips gave me a firsthand view of the landscape that would supplement the photos from calendars and magazines that served, at the time, as models for paintings.
To this day I still use trips around the country to gather ideas from hundreds of photographs that I take during my travels, (though the hitchhiking days were left to the sixties). My most recent venture involved loading down my Harley-Davidson motorcycle and embarking on a solo cross-country trip from Florida to California, gathering reference material for future paintings along the way.
I have found a fascination, (possibly an obsession), with the way light, shadow and color come together to bring out the drama that exists in approaching storm clouds or the strength delivered to a powerful ocean wave... or the calmness found in the early morning surf. Working to capture the quiet of the first rays of daylight filtering into the deep forest, carried on the mist of the lingering morning fog. I cannot stand in Yosemite Valley and not be awed by the sheer majesty of El Capitan, yet at once be challenged by the impossibility of trying to recreate its' beauty on canvas. To travel along the sandy coast of the southeast or the steep perilous cliffs of the Pacific coast, or the mountains and plains in between, and wrestle with simply enjoying natures' beauty, or rushing back to the studio to put it on canvas. Every day delivers a new gift of color, light and shadow to enjoy and capture with paint and canvas."
Michiel's paintings have been exhibited in numerous art shows. He is also a member of Oil Painters of America.
All copyrights reserved by the artist