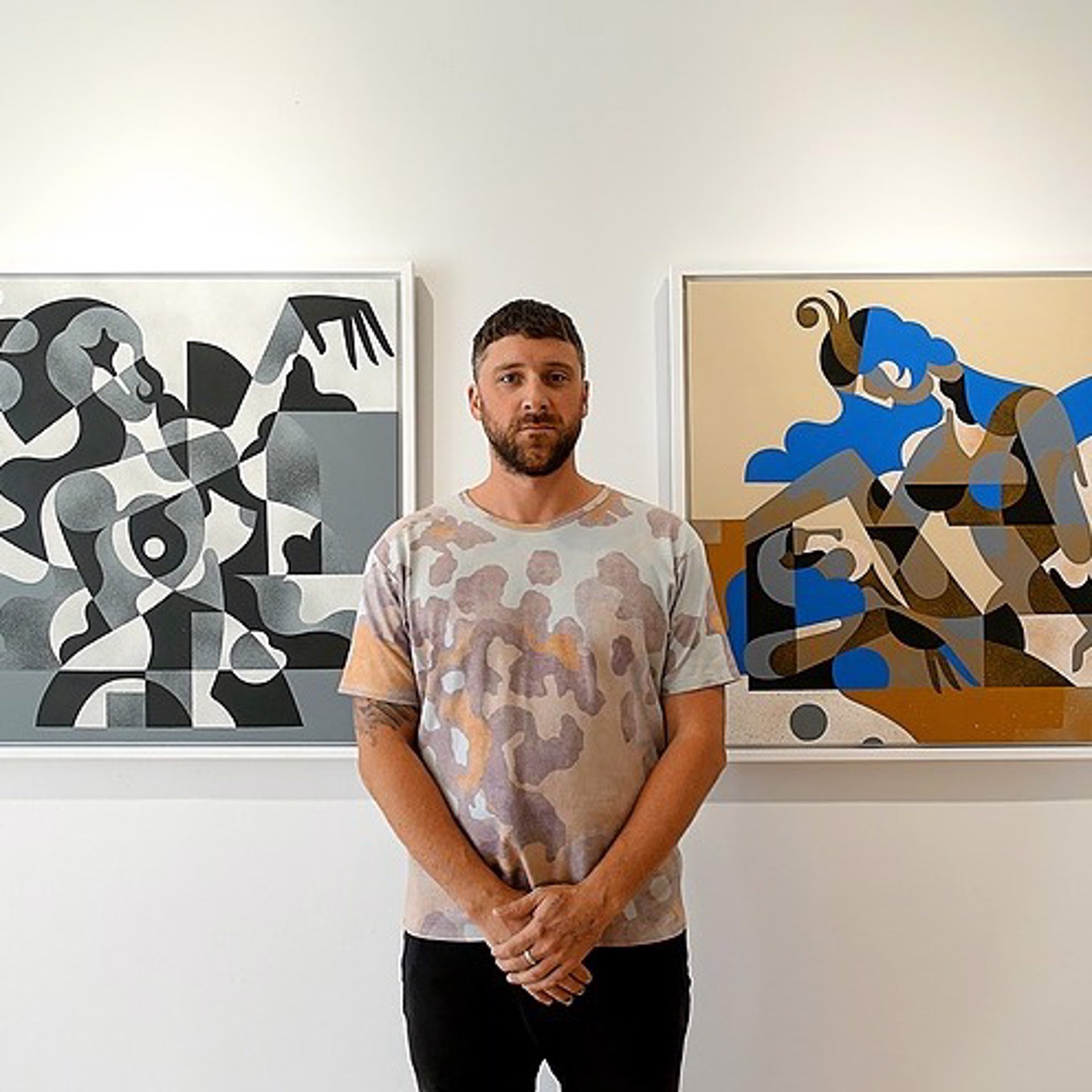 James Reka is a contemporary Australian artist based in Berlin, Germany. His origins lie in the alleyways and train lines of Melbourne's inner-suburbs where he spent over a decade refining his now-emblematic aesthetic. His figurative work has come to represent the beginnings of a new style of street art: clean, unique and not necessarily on the street (much to his mother's joy).
Surrealist, abstracted creatures emerge from the depths of Reka's mind, communicating through strong lines, dynamic movement and bold colours. Theses figures haunt the laneways over four continents, clambering up brick walls and giving the urban environment a literal fresh coat of paint. Their personalities mirror those of their often-decrepit metropolitan context, opening a dialogue between the viewer and their surroundings.

Through these origins, Reka has developed an incredibly diligent, almost obsessive attention to the technical proficiency of his work, and it has moved him towards producing ever-increasingly meticulously detailed pieces. His art sits somewhere between humorous and menacing, contrasting the two opposing feelings in a way that is unique to his vision. These pseudo-human forms are recognizable but isolating, playful yet eerie. This is Reka's art: a paradox between sharp design and graffiti, held together with a fuse of passion and spray paint.

Reka's art work has been inspired by 2 movements; Cubism getting the upper hand over Surrealism, which revealed the mirage as a curve towards abstraction. The artist puts an extra care in executing his figures with specific aesthetics, vivid coloured flat tints, burless painted turns, lines and curves. Straightforward, his compositions made of pop hints are flirting with geometry. No matter from what corner you will be looking at Rekas' paintings, their moving perspectives invite to reflection and optical illusion, through games of colours, straight lines and volumes.
Merging classic and folk backgrounds, the artist likes to break boundaries between forms and contours. On a wall or a canvas, the characters and objects nest one with another by the game of astonishing straight twists, becoming almost necessary to ogle in order to see what is hidden there.

"My style" he said "is more straightforward now, it has become rather abstract over the years. I am more focusing on the whole harmony rather than the content, on the link between every individual line and every shape."
Reka has held solo exhibitions in Chicago, Krakow, London, Paris, Milan, San Francisco, Denmark, Perth, Sydney and Melbourne. He was also invited to exhibit at the acclaimed Royal West of England Academy (RWA) in Bristol, UK. On the streets, his characters adorn the walls of cities around the world from Tokyo to Buenos Aires and Paris to Brooklyn, Montreal to Berlin and the 4 corners of the world. Reka's works have recently been acquisitioned by the National Gallery of Australia for their permanent collection. cementing his place as one of Australia's most respected contemporary street artists.