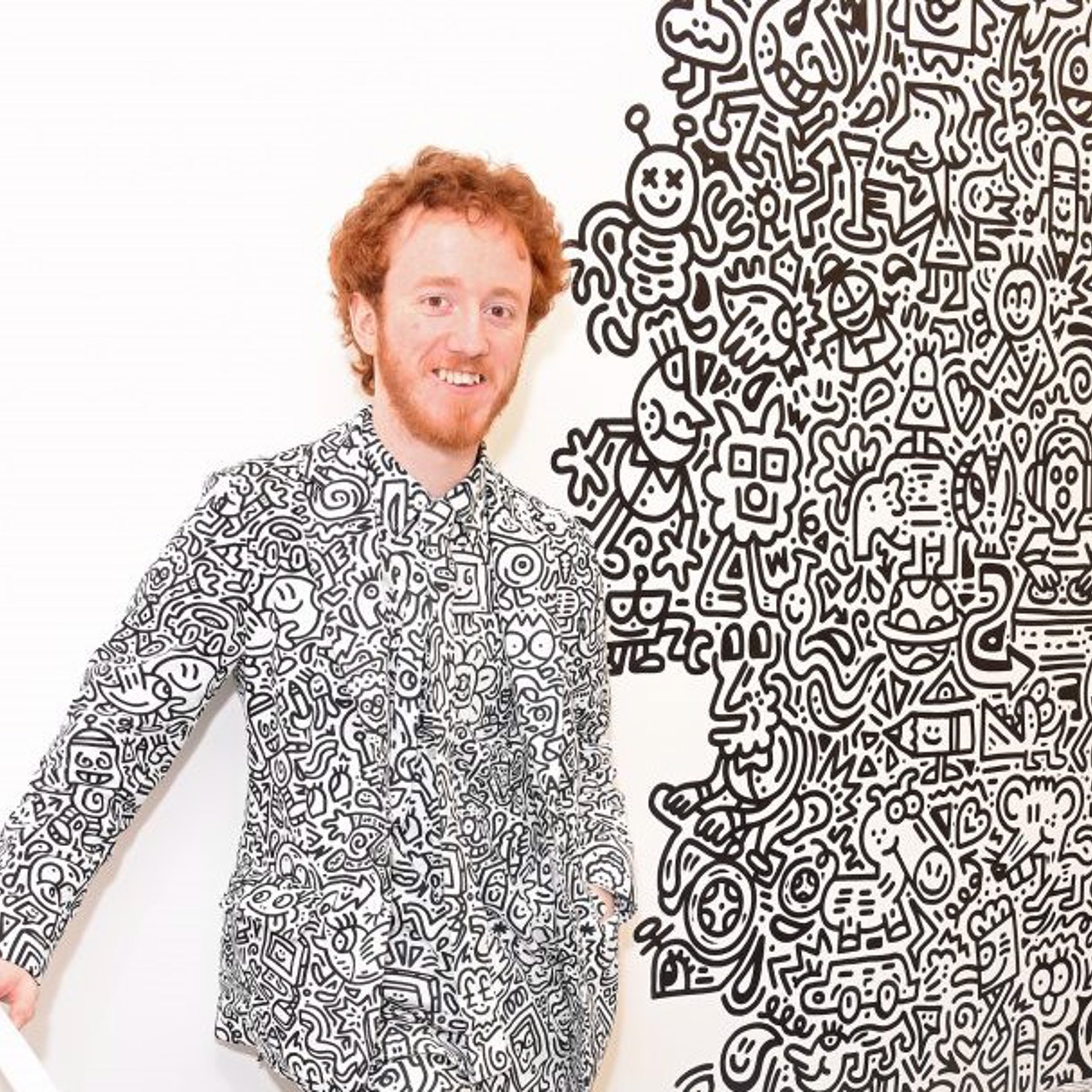 Sam Cox, also known as Mr Doodle, was born in Kent, England in 1994. Starting his artistic career at the age of nine, he scribbled over any object he could get his hands on and covered his bedroom with paper doodles. He soon created a whole new visual phenomenon: his own iconic DoodleLand, manifesting his vision of the world, where dense clusters of characters, objects and patterns grow and multiply relentlessly.
Mr Doodle's art is characterised by a tightly packed and visually overwhelming arrangements of letters, forms, symbols, and recurring characters, drawn with thick black lines on white backgrounds. The artist describes these improvised compositions, which can be spread across canvases, objects, walls, and even whole rooms, as 'a growing drawing virus'.
In 2016, Mr Doodle's first major solo exhibition, Attention Seeker, saw London's Hoxton Gallery covered in a continuous doodle mural. Drawing influence from everyday phenomena such as cartoons, cereal boxes, and video games, as well as a retinue of imagined characters from Doodleland, the artist decorated walls, columns, and the floor of the gallery with dense imagery. He also drew over a grand dining set and accompanying tableware with floral centre piece.
Mr Doodle has referred to his style, which packs overwhelming visual stimuli into infinite compositions, as 'graffiti spaghetti'. The simple imagery itself has broad appeal, with the artist stating: 'My intention has always been to create a universal doodle language that can relate to and attract people from all over the world.'
Playing to the weirdness and performative antics that make the artist's alter ego come to life, Mr Doodle's clothing, worn at the completed exhibition, was hand-decorated to blend in with the doodle-saturated rooms of the installation.