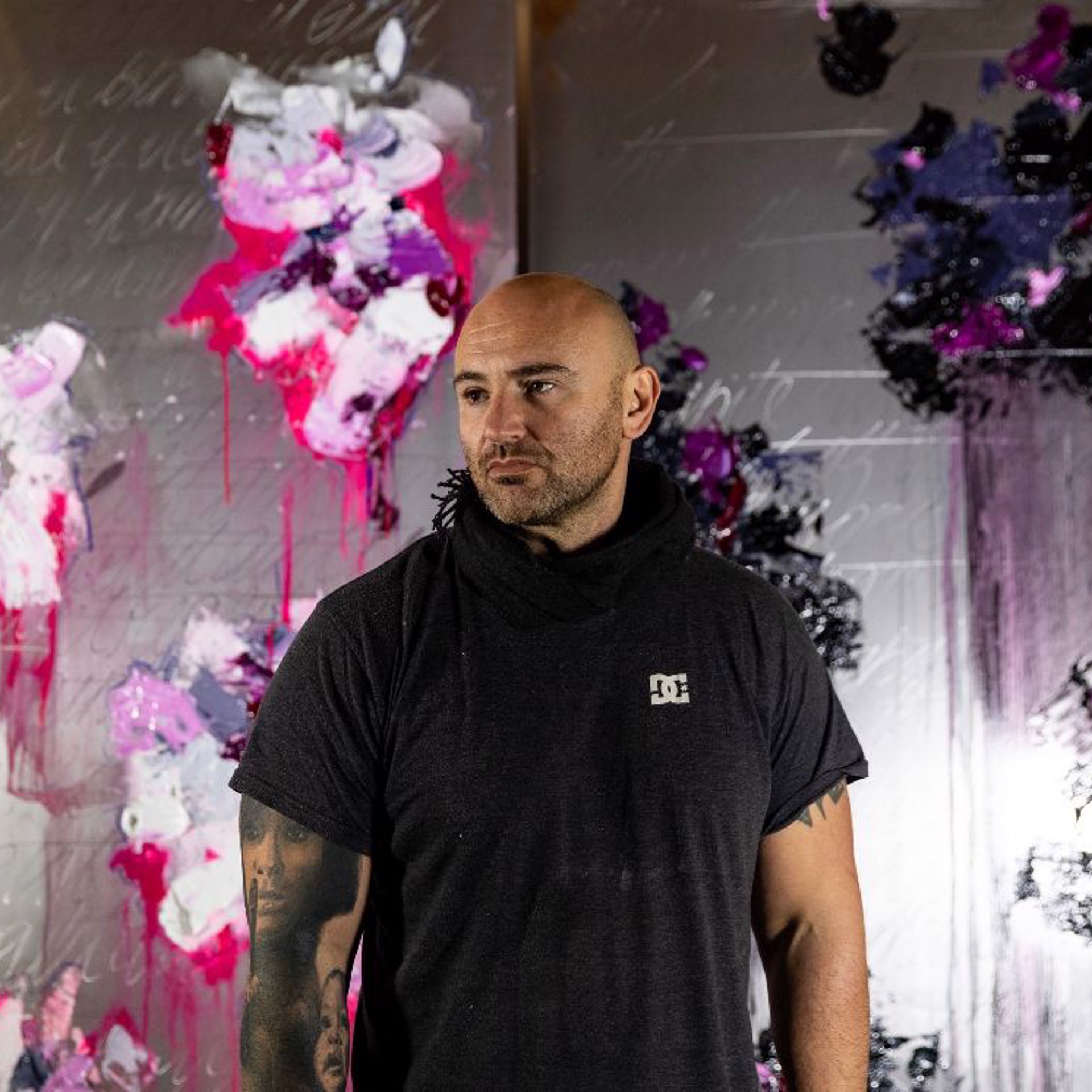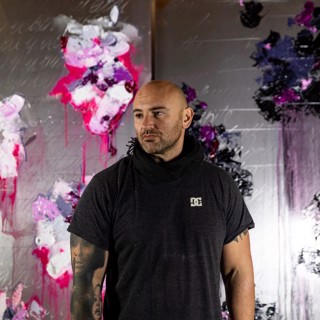 Karim's work is based upon passage, mark, and assurance. Identity is naturally a part of the evolutionary process of the passage; the mark is embodied by his distinctive trace on the page. As his work documents the passage of others, it simultaneously assures the artist of his own journey.
The mutation from print, to portrait, to metal, oil or collage represents the myriad of influences Karim draws upon when composing his thoughts. Being the living testament of an eclectic path, it is impossible for him to ignore the possibilities that surround him. Karim began his fingerprint series in 2002, working with actual fingerprints. He won his first prize for this work in 2004, with a piece named "Rakel," at Artecity, a Miami development art competition. In addition to the work that comes from his mind, he has been commissioned for fingerprint portraits throughout the years.
Karim's work needs to achieve a political identity and needs to express its provenance or dissidence, as life constantly reminds us of the inevitability of politics. The piece is never concluded; rather it symbolizes the continuation of a phase, from himself to the public, from his interpretation to the audience's. Through its exposure the work obtains necessary nutrients, indispensable for further creation and maintaining the link.
Karim Ghidinelli was born in Brescia, Italy. He grew up traveling throughout Europe and Africa and moved to London in 1995 to attend the Chelsea College of Art and Design. He completed his undergraduate and graduate studies in painting art Savannah College of Art. Karim now lives and works in upstate New York.
Artist Statement:
Life has an interesting way of editing scenarios, interests and people. It seems the selection goes from broad to specific or in some cases non-existent. I observe as my interests change towards my own work, and suddenly what appeared as necessary is no longer vital and often becomes rather futile.
I would say if I had to choose a process to personify my work it would be
elimination. I am now at the apex of my synthesis, which will probably appear as a broad beginning a few years into my future, but today it feels specific, today it feels focused and pertinent.
My attempt is to extract relevance, in a society bombarding us with ignorance and surface, ready-made philosophy and remedies for all evil, I desire my own truth, I desire substance. This may not always be positive, enjoyable or joyous, but at least it is honest. My work is not pop, it seems as though over the years pop art went from dealing with popular culture to becoming idiotic, as there is no more intelligence in anything popular. Obsessions and compulsions of fame and notoriety are the preoccupations of such a culture, whereas, I dwell into the silence of form, function and relations.
EDUCATION
2002 MFA Painting, Savannah College of Art and Design, Savannah GA, USA
2000 BFA Painting, minor in Art History, Savannah College of Art and Design, Savannah GA, USA
1996 Foundation Studies, Painting, Chelsea College of Art and Design, London, U.K.
EXHIBITIONS
2021 Magic of Metal, Onessimo Fine Art, Palm Beach, FL
2019 100 Grams of Reality, Dar Al Funoon Gallery, Kuwait City, Kuwait
2018 SCOPE MIAMI, Miami, FL
2018 Spaces, Places, & Faces. Group show. Abbozzo Gallery, Toronto CA
2018 A State of Mind, solo show, Cheryl Hazan Gallery, New York, NY
2017 Fresh, solo, Dar al Funoon Gallery Kuwait
2016 Labirinto, solo, Galleria San Carlo, Milan, Italy
2015 ART MIAMI NYC, New York, NY
2015 SCOPE NY, New York, NY
2015 Kingless Crown (solo), Cheryl Hazan, New York, NY
2014 Red Show, Cheryl Hazan, New York, NY
2014 SCOPE MIAMI, Miami FL
2014 Choices, Cheryl Hazan, New York, NY
2014 Passport Diplomatique (solo), Galerie LeRoyer, Montreal, CA
2014 Love Art Fair, Toronto, CA
2014 This-Honesty (solo), Abbozzo Gallery, Toronto, CA
2014 Chicago International Art, Chicago, IL
2013 Rouge , Cheryl Hazan, New York, NY
2013 Context Art Miami, Miami, FL
2013 Art Toronto, Toronto, CA
2013 Art Houston, Houston , TX
2013 Lingo, Cheryl Hazan, New York, NY
2013 Collettiva, Studio LaContemporanea, Torino, Italy
2013 Art Hamptons, New York, NY
2013 The Innovators, Onessimo Fine Art, West Palm Beach, FL
2013 Palm Beach Art & Antiques, West Palm Beach, FL
2012 Red Show, Cheryl Hazan, New York, NY
2012 Context Art Miami, Miami FL
2012 Art Toronto, Toronto, CA
2012 Art Hamptons, New York, NY
2012 Artissima, LaContemporanea, Torino , Italy
2012 Digito Ergo Sum (solo), Studio LaContemporanea, Torino, Italy
2012 Arte Verona, Verona, Italy
2012 Miart, Milan, Italy
2012 Karim Ghidinelli (solo), Dar Al Funoon Gallery, Kuwait City, Kuwait
2012 Art Wynwood, Miami, FL
2012 Individually Collected, Cheryl Hazan, New York, NY
2011 Red Show, Cheryl Hazan, New York, NY
2011 Art Miami, Miami, FL
2011 Art Toronto, Toronto, CA
2011 Art Hamptons, New York, NY
2011 Decision Vision Incision, Galerie LeRoyer, Montreal CA
2011 Art Verona, Verona, Italy
2011 Miart, Milan, Italy
2011 Digito Ergo Sum, Galleria San Carlo, Milan, Italy