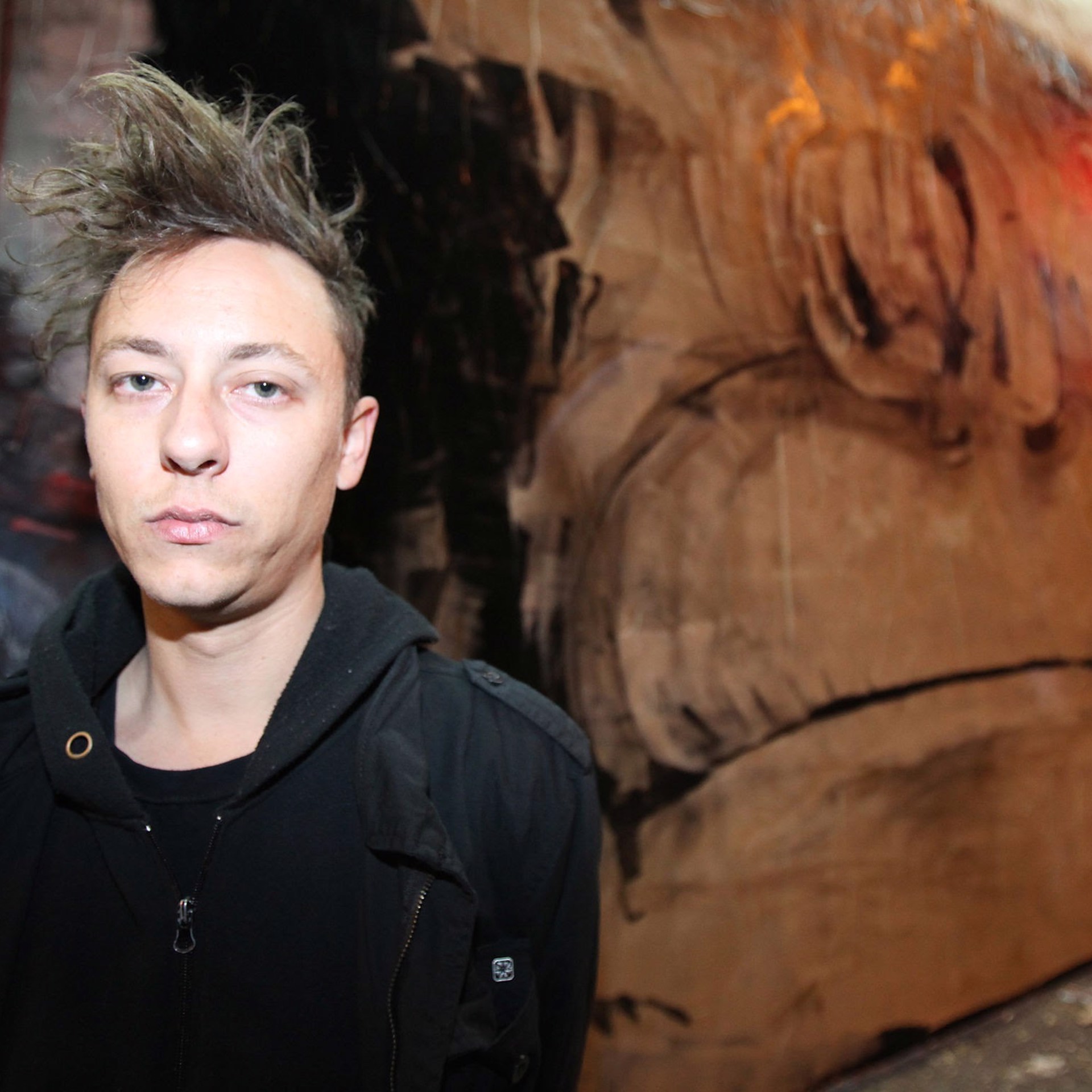 Anthony Lister is an Australian graffiti artist. Born in 1979 in Brisbane, Australia, he studied at the Queensland College of Art. In 2002, he traveled to New York where he was mentored by the painter Max Gimblett. Lister stared painting the streets at the age of 17 and helped pioneer the street art movement in his home city as a teenager. He is considered Australia's premier street artist.
His scrawling, figurative style employs charcoal, acrylic, spray paint, and oil. Whether it be through his use of bold writing styles or a specific shading and color scheme, Lister's controversial subject matter and often provocative public declarations often prove to provoke thought and question reality itself while allowing the artworks to remain accessible to the public mind.
One reason Lister's works of art are so remarkable because he does not limit himself to one theme, but rather takes risks and delves into seemingly disconnected variations in subject matter that allow his works to resonate with his followers. The large images and pronounced techniques utilized by Lister's works are eye-catching, allowing for a memorable final product for his audience.
Anthony Lister loves controversy, and we can't help but applaud him for incorporating the innate sense of life's chaos into his works. He makes what may seem to be questionable issues relatable through his art, often inciting intentional debate amongst viewers. He also puts a clever spin on matters that are initially seen as conventional and mundane, modernizing past themes and making them functional for his current audience.
There is an inherent sense of a seemingly unorganized thought process that accompanies Lister's art, delivering cryptic messages that open the door to disparities in the interpretation of his work. This gives Lister the ability to project a sense of controlled chaos, allowing the viewer to create their own ideas about his intended messages.
Because there is a sense of power and beauty that is incorporated flawlessly within his artwork-specifically, his use of precise shading, color scheme, and his somewhat chaotic line work- his final product delivers an effect that is both influential and effective, establishing a means of conveying Lister's intended emotions for that specific piece.
Lister's usage of abstract techniques along with more specific, detailed skills combine masterfully to convey the superb thought process that accompanies each of his works of art. His works are larger than life, taking us to what can only be the world inside Lister's mind, leaving us wanting to know more about what drives him to create the way he does.
Where Lister succeeds is simply his ability to leave his pieces open to interpretation. There is no correct interpretation for any specific work of art, but rather a range of emotions and skill set that is playful, whimsical, dreamlike and wholeheartedly Lister. Provocative and compelling, you can't help being drawn to Anthony Lister and his incredible works of art.
Anthony Lister is considered one of the most influential contemporary artists in Australia and features among the top 50 most collectable Australian artists. He held exhibitions across the world : Urban Spree Gallery in Berlin, Lazarides Gallery in London, Show & Tell Gallery in Toronto, New Image Art Gallery in Los Angeles, Robert Fontaine Gallery in Miami, Black Art Projects in Melbourne… And his work is included in the collections of the National Gallery of Australia, David Roberts Collection, TVS Partnership, Brand & Slater Architects, Brisbane Grammar School and Art Bank Australia.
His work has also been featured on Juxtapoz, Vogue, WoosterCollective and Highsnobiety, and Anthony Lister has worked with various international renowned brands such as Hermes, The Standard Hotel, Westfield, Vogue Australia, Samsung and Mercedes-Benz. He has also collaborated with many well-known artists and personalities including French artists Blek le Rat and Space Invader, and Australian singer Nick Cave.